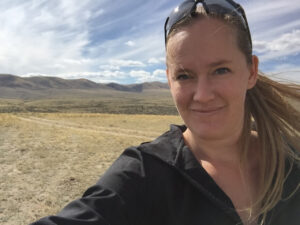 Name: Suzie O'Connell
Occupation: Author, Freelance Designer, Co-founder/Admin of Wide for the Win
Education: Bachelor of Arts: Literature & Writing from University of Montana – Western
Cover Design Experience: 11 years
Photoshop Experience: 23 years
Favorite activities: Photography, reading, indulging the inner nerd, spoiling my menagerie of pets (3 cats, 3 dogs, and 3 cows), fishing, hiking, camping, and otherwise enjoying the great outdoors
Hello from Montana! In case you missed it from the homepage, my name is Suzie O'Connell, and I am the owner and designer here at Sunset Rose Books. I'm also the USA Today bestselling author of the Northstar, Sea Glass Cove, and Two-Lane Wyoming romance series. And eventually, I'll publish some high/epic fantasy, too—my first love.
I'm a bit of a wandering heart—born in California, raised in Washington, and I've called Montana home for more than half my life with a two-year love affair with Wyoming tossed in for good measure—which is why I decided to call my design business Sunset Rose Books. No, not rose as in the flower but rose as in compass rose.
So, by now, you might be thinking: Why would someone who already makes her living writing want or need to design covers and format books for others? Isn't writing for a living the dream? Of course it is, but I love design. Before my book sales took off and allowed me to quit my day job, I formatted books and designed book covers for other authors to earn a little extra money on the side, and well….
You see, I have a little problem. I'm a Photoshop addict and have been since I got my hands on my first copy way back in 2000 (has it really been two decades already?!). My photographer/graphic designer brother gave me his old copy when he upgraded back when I was in college, and I've been hooked ever since.
Phew. Feels good to admit that! I'm also addicted to helping other authors succeed because I wouldn't have been able to live that full-time-writer dream without all the authors who were generous enough to share their talents and expertise with me.
As you've probably guessed from my not-so-formal bio, I'm pretty laid back, and that's how I like to interact with my clients. Book publishing is stressful enough, and I'd like you to feel comfortable and at home while I'm working on your cover—one less reason to stress.
Here's how my process works: you place an order via the Pricing page for custom covers or email an inquiry, I receive the order and respond via email within 2 business days with a few additional questions about your project, we'll schedule a time to start work, and I'll get the invoice sent over. Then, when your appointment arrives, we get started! I'll take your suggestions and files, do any stock image hunting I need to do, create a mock-up design, and send it off to you. From there, we'll fine tune it until you're thrilled with it. The invoice will need to be paid before I send over finalized files. To deliver files, I provide a download link to a ZIP file with all the full-resolutions, ready-to-upload images for your project.
Premade covers are even simpler. After you purchase your cover, you'll be automatically redirected to a form asking for contact information, and I'll respond with in 2 business days to schedule a time to complete your order. Then I'll finalize the cover with your details and email you a download link to the ZIP file. Easy-peasy.
If you want to chat and get to know me a bit more before you order, please do! Just shoot me an email me at covers@sunsetrosebooks.com or submit your inquiry right here: